Bum Phillips, former coach of the Houston Oilers and Tennessee Titans once said, "There are two types of coaches in the NFL: them that have been fired, and them that are gonna be fired."
His statement applies to the topic of grief. There are two types of people in the world: those who grieve and those who will grieve. We can't escape it; therefore, we should prepare of it.
What are some considerations for one facing grief?
It is normal to feel, and acceptable to express grief.
Some well-meaning people tell us that we should not grieve; however, tears are not shameful. Christians are not immune from grief just because they do not sorrow as those that "have no hope" (1 Thessalonians 4:13). While we all want to avoid being a public spectacle, grieving in an appropriate manner is expected.
The Bible acknowledges that we will grieve. It is silly to suggest that we should not. The great saints of the Bible knew grief.
Jacob "mourned for his son many days" (Genesis 37:34).
Abraham mourned the passing of Sarah (Genesis 23:2).
Isaac was still grieving three years after his mother's death (Genesis 24:67).
David wept when his friend Jonathan died (2 Samuel 1:12).
Job rent his robe and shaved his head at the loss of his children (Job 1:20).
Scripture describes Jesus as "a man of sorrows," (Isaiah 53:3) who wept at the grave of Lazarus (John 11:35).
Grief is a natural response; it is the way God made us. The Creator put eternity in our hearts (Ecclesiastes 3:11 ASV). Creatures that care naturally hurt when they lose the object of their love. In fact, researchers from the Medical College of Virginia concluded that the death of a close relative is the single biggest contributor to depression. Risk of depression is increased by:
serious illness, 330%
divorce/breakup, 1,130%
serious marital problem and assault, 1,400%
the death of a close relative 1,500%.1
It is acceptable for men to cry.
The Bible does not discourage weeping. Romans 12:15 even encourages believers "to weep with them that weep." Jesus did not hold back His tears at Lazarus' grave (John 11:35). Joseph and David, two heroes of the Old Testament, wept in public (Genesis 45:2; 2 Samuel 12:22).
Grief is a natural response; it is the way God made us.
The first mourning recorded in the Bible is Abraham "mourning and weeping" when he lost Sarah (Genesis 23:2). What's the difference in mourning and weeping? Weeping is a personal response to grief, while mourning (lamenting) at that time was frequently a ceremony that involved rending clothes, beating the breasts, and the tearing of hair. We do not know how long Abraham mourned, but at Jacob's death his children mourned for seven days (Genesis 50:10).
Weeping is natural, healthy, and necessary. William H. Frey of Health Partners Dry Eye and Tear Research Center in St. Paul, Minnesota, provided a revealing study on tears.
Tears are caused by three sources—79% out of sadness, 20% out of happiness, and 0.5% out of anger.
On the average, women cry five times a month, and four times more often than men.
Only 4% of women say they don't cry at all, but a whopping 45% of men say they don't cry at all.
For those who cry, 85% of women and 73% of men reported they feel better after crying. Women are more likely to cry when they are angry, but anger inhibits crying in men.2
Tears, paradoxically, actually help a person pull together. Crying is crucial to the recovery process. Those who can cry get things off their chest sooner, get back on their feet quicker, and get on with their life faster than those who keep emotions bottled up.
Do not set a timetable for when your grief should end, but know that however long it lasts, it is temporary (2 Corinthians 4:17).
Psalm 30 sings of the hope that transforms our grief: "Sing unto the Lord, O ye saints of his, and give thanks at the remembrance of his holiness. For his anger endureth but a moment; in his favour is life: weeping may endure for a night, but joy cometh in the morning" (Psalm 30:4–5).
Moses' Law allowed the Jews to express grief in some of the same ways as the heathen nations around them. For instance, they could cry, wail, and wear sackcloth and ashes. They were forbidden, however, to cut themselves, which was common in the Middle East. Why was this? Some suggest that it has to do with the temporary nature of mourning. A cut will leave a scar—and God did not want them scarred by their losses. He wants us to mourn but then to go on with our service to Him and others.
Get back to everyday routines, but stay away from the stressful situations.
Familiar habits can be very comforting. Your nerves are raw; your emotions are sensitive. Turn off the TV news reports and distract yourself by doing something you enjoy. Paul's advice is good to take to heart at such a time: "Finally, brethren, whatsoever things are true, whatsoever things are honest, whatsoever things are just, whatsoever things are pure, whatsoever things are lovely, whatsoever things are of good report; if there be any virtue, and if there be any praise, think on these things" (Philippians 4:8).
Don't neglect your health.
Grieving can be physically draining, especially when dealing with entertaining guests and making difficult decisions. "Respect your mind and your body," writes Susan J. Zonnebelt-Smeenge and Robert C. DeVries, "The acronym DEER (drink, eat, exercise, rest) may help you stay focused on taking care of yourself."3 There's something comforting about food and rest.
When David's infant son died David took care of himself physically. He cleaned up, shaved, and asked for food. When Elijah was depressed the angel of the Lord came and said, in effect, "Get up and eat something," and he cooked him a meal over hot coals. The Bible says that he was strengthened by that food (1 Kings 19:8).
Don't be afraid to ask for support from your family and friends.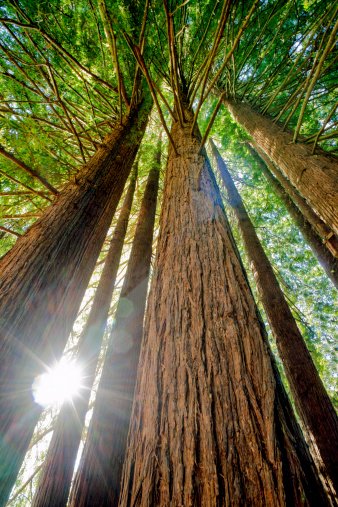 The Sequoia trees of California tower as much as three hundred feet above the ground. A Sequoia is an evergreen that may live up to 2,200 years, and this species includes the tallest trees on earth, reaching up to about 400 feet in height and 26 feet diameter at breast height.
The current tallest tree is Hyperion, measuring at 379.1 feet. It was discovered in Redwood National Park by Chris Atkins and Michael Taylor in 2006, and has been measured as the world's tallest living organism. Strangely, these giants have unusually shallow, wide-spreading lateral root systems. This allows them to capture the greatest amount of surface moisture but also makes them vulnerable to wind, so seldom will you see a redwood standing alone. They grow in clusters so their intertwining roots can provide support for one another against the storms
One of the ways that God gets us through our storms is by the intertwining support system of our family and friends. He comforts us and He uses us to comfort others. Chuck Swindoll wrote, "Unbelievable as it may seem, God has a reason for our suffering. Our Father is preparing us to meet the deep inner needs of others by bringing us through the dark places first." Those who have known affliction, doubt, sickness, and temptation are better equipped to console others in similar situations (2 Corinthians 1:3-4; cf. 1 Peter 3:8; John 11:31; 1 Thessalonians 2:11; 1 Thessalonians 5:14; Job 2:13)
Seek comfort from others in the same situation (2 Corinthians 1:3-4).
King Harry VIII, wandering disguised one night in London, was met at the foot of a bridge by night watchmen. They did not believe he was the king, so they shut him up without fire or candle in the Poultry Compter. Upon liberation he granted thirty caldrons of coals and some bread for all night prisoners in the Compter.
One of the ways that God gets us through our storms is by the intertwining support system of our family and friends.
Experience brings sympathy. One preacher preached a funeral for a baby, talking about the baby's going to heaven and what joy was there. Afterward, the family told him: "We know that he is all right, but what about us?" They made a good point. Those who are grieving need knowledge and help they have never needed before. There is likely someone in the congregation who has gone through something similar to your experience, so seek them out and talk with them. If not, check for a support group or online resources.
Invest in others.
Paul taught us to "look . . . on the things of others" (Philippians 2:4). It often helps to get out of the house. Volunteer to help at the church office, visit someone in the nursing home, help a neighbor, or donate time to a worthy cause. One person had another idea along these lines. Rather than be demoralized by an empty chair during the holidays, consider expanding your "family" during this time. "I remember the first Christmas after our son Timothy was killed in an auto accident," recalls one father. "We obsessed about getting through Christmas dinner facing his empty chair. We came up with the idea of filling his chair with several other people. That Christmas we invited a distant relative to spend the week with us. We also invited two recently widowed men from our church to share Christmas dinner. As we sat together, all of us were thankful for the love around the table and the memories we shared."
Norman Singer tells the story of a woman whose only son died. In her grief she went to a "holy man" and said, "What magical incantations do you have that will bring my son back to life?"
Instead of sending her away or reasoning with her, he said, "Fetch me a mustard seed from a home that has never known sorrow. We will use it to drive the sorrow out of your life."
The woman set out in search of the magical seed. She came first to a splendid mansion, knocked at the door and said, "I am seeking a house that has never known sadness. Is this the place?"
They told her, "You have come to the wrong place," and began to describe all the tragic things that had befallen them.
The woman said to herself, "Who is better able to help these poor people than me, who has also known great sorrow?" She stayed and comforted them, then went on in search of a home that had never known sorrow. But wherever she turned, in hotels and quiet places, she found one tale after another of sadness and misfortune. She became so involved in ministering to other people's grief, she forgot about her quest for the magical seed, never realizing it had in fact driven the sorrow out of her life.
Remember that time will lessen the pain (Psalm 56:3; Ecclesiastes 3:3-4).
One widow, Lynn Caine, said, "If only someone whom I respected had sat me down after Martin died and said, 'Lynn, bereavement is like a wound. It's like being very, very badly hurt . . . You will grieve, and that is painful. And your grief will have many stages, but all of them will be healing. Little by little, you will be whole again. And you will be a stronger person. Just as a broken bone knits and becomes stronger than before, so will you.'"
When things do not make sense to us today, that does not mean they will not make sense to us tomorrow. Some things we cannot understand from our immediate vantage point; we need a little more time to change our perspective. When your children were small they could not understand why they could not have dessert instead of a meal, but now they tell their children the same thing. A preacher at a Christian college once prayed, "Dear Lord, please, please give me this young lady for a wife." For some reason God said, "No" and she married someone else. He saw her fifteen years later and prayed again, "Dear Lord, thank you!"
Understand that it is permissible for you to be happy again. When Paul said to "rejoice in the Lord alway" (Philippians 4:4), he must have included following a period of grief. It is important also to avoid beating yourself down with guilt (Romans 8:1). An 86-year-old man who had lost most of his loved ones said, "I've learned to keep looking ahead. There are still so many good books to read, sunsets to see, friends to visit, and old dogs to take walks with."
Remember a firm faith in God produces the hope that can only lead to a way out of the darkness of grief.
Footnotes
1Psychology Today 11–12/95.
2Los Angeles Times 3/10/97.
3The Empty Chair: Handling Grief on Holidays and Special Occasions (Baker Books).
(Visited 3,664 times, 1 visits today)